Garage Doors Olympic Peninsula and Kitsap Peninsula
We are no longer serving Kitsap County at this time.
Yes, we're open! Today's hours are 7:30AM - 3:30PM.
See More Hours
Tuesday - 7:30AM - 3:30PM
Wednesday - 7:30AM - 3:30PM
Thursday - 7:30AM - 3:30PM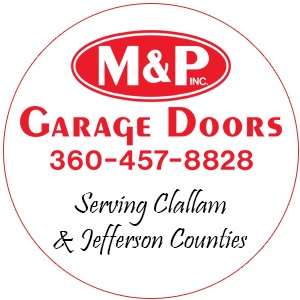 Welcome to M and P Overhead Doors, providing Garage Doors for the Olympic Peninsula.
ANY PRICE IS BEATABLE
WE OFFER UNBEATABLE SERVICE
Are you looking for premium quality doors? Do you want to get A-1 service? Whether it is for residential or light commercial, we can offer you the best products and services! We are one of the chief companies for doors in Western Washington.
Locally Owned & Operated
Since 1975
One of the most trusted door companies in Western Washington
SOME OF OUR PRODUCTS ARE:
Amarr Garage Doors
Door Hardware
Door Openers
Fireproof Doors
LiftMaster Door Openers
Garage Doors
Wide Selection of New Garage Doors & Openers
Used Doors (call for availability)
Torsion Spring Specialist
SOME OF OUR SERVICES ARE:
Free Estimates
Installation
Maintenance
Repair
Sales, Repairs & Installation of All Makes & Models
Typically Same Day Service
Torsion Spring Specialist
"Proudly furnishing, servicing and installing Craftsman brand garage door openers."
Yes, we're open! Today's hours are 7:30AM - 3:30PM.
See More Hours
Tuesday - 7:30AM - 3:30PM
Wednesday - 7:30AM - 3:30PM
Thursday - 7:30AM - 3:30PM